Thank you for trading on CoinDCX! The Futures Trading Battle is now closed.  More updates will follow soon 
⚔️ New Traders Final Leaderboard
⚔️ Final Leaderboard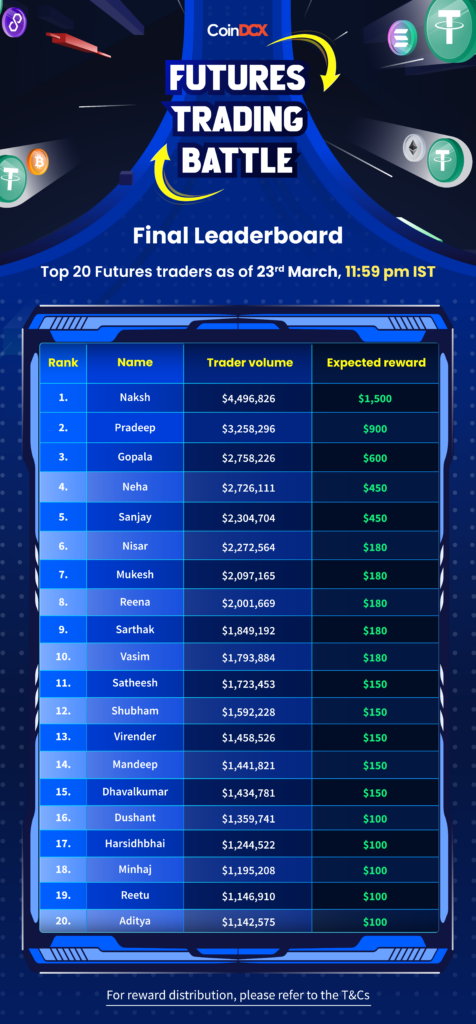 ⚔️ 'Futures Trading Battle Rewards' for New Futures Traders
First time or new futures traders on CoinDCX will be eligible to also win Apple giveaways. This promotion reward only applies to first time futures traders (Users who place their first futures trade in the campaign duration or 20th March onwards) on CoinDCX.
⚔️ 'Futures Trading Battle' Rewards
Top traders by trading volume during the 'Futures Trading Battle' will be eligible to win from a total of $6000 prize pool basis the below structure:
⚔️ HOW CAN I PARTICIPATE IN THE BATTLE?
The Futures Trading Battle is now closed. Participants and winners will be updated with the next steps soon.
⚔️ ELIGIBLE PAIRS FOR THIS TRADING COMPETITION
All listed pairs across CoinDCX platforms are eligible for trading under the 'Futures Trading Battle'.
Terms & Conditions
These terms and conditions shall govern the Futures Trading Battle (

"Trading Competition"

). The user (

"User"

) shall always comply with the Terms of Use and hereby agrees that they have read and understood the terms of the Risk Disclosure and the Privacy Policy governing the use of the Online Platforms of CoinDCX.

Capitalized terms not defined herein shall have the same meaning as assigned to them under the Terms of Use.

The Trading Competition will run from March 20, 2023, 9:00 AM till March 23, 2023, 11:59 PM (

"Trading Competition Period"

). In order to participate in the Trading Competition, the User may trade in any of the futures pairs on CoinDCX, CoinDCX Pro or CoinDCX web during the Trading Competition Period.

All the Users are eligible to win prize money in the Trading Competition. However, only new futures users on CoinDCX platforms will be eligible for the Apple giveaways Raffle Prize. Winners will be decided based on the aggregate of all buy and sell orders during the Trading Competition Period.

The term 'futures pairs' shall mean a perpetual futures contract that grants exposure to any of the listed futures pairs to the User. 

The Users will be selected as the Trading Competition's winners based on the highest futures volume, which includes all buy and sell orders placed during the Trading Competition Period. The winners are qualified for the following one-time reward (

"Reward"

). 

The Existing Users of Futures will have to trade a minimum of $1 Million volume in Futures over 4 days. He/she has to trade for a minimum of 3 out of 4 days to be eligible for the rewards.
Raffle rewards for new futures traders:
For the raffle prize, Users have to transact in any of the futures pairs across CoinDCX platforms at least once during the Trading Competition Period. 

The New Users of Futures will have to trade a minimum of $10,000 volume in Futures over 4 days. He/she has to trade for a minimum of 2 out of 4 days to be eligible for the rewards.

The Trading Competition is not applicable on transactions undertaken using margin and for spot transactions. The User hereby understands and agrees that no Reward shall be payable in any other case and trade types unless specifically mentioned by CoinDCX.

In case of a tie with equal futures volume, Rewards shall get divided uniformly. However, CoinDCX shall have the sole right and discretion to decide and declare the winner in a situation of a tie between two or more Users. The User hereby waives all rights to dispute any decision of CoinDCX in this regard and CoinDCX does not undertake any liability, responsibility, or guarantee towards any User. 

The winners will be announced after the expiry of the Trading Competition Period.

CoinDCX reserves the right to: 
declare any prize already given invalid and subject to cancellation upon direct or indirect evidence of attempted fraudulent actions including but not limited to market manipulation, unfair trade practices, etc.

publish the winners' trading IDs/names and countries, in any form or media whatsoever.

discontinue, suspend, modify, or cancel the Trading Competition or any terms contained herein for any or all of its Users.

select fewer winners than described above at its discretion in the event that a sufficient number of eligible participants meeting the entry requirements is not met.

reject or disqualify any participant who is breaching the terms set herein and, in all cases, wherein  CoinDCX has reason to believe that the participant is engaged in fraudulent or otherwise unfair trading methods/practices.

reverse the previously credited and/or withdraw already granted Reward and CoinDCX disclaims all liability and responsibility in this regard.
The Trading Competition and prizes offered should not be considered as an incentive to trade. Users acknowledge that they shall only participate in the Trading Competition when they feel adequately equipped to trade.

In case the User does not complete their KYC successfully, the User shall be ineligible for the receipt of any Reward under the Trading Competition. 

After the winners are announced, the Reward will be distributed into each winner's wallet within 14 (fourteen) working days of such announcement. The manner in which the Reward will be distributed shall be as per the internal process followed by CoinDCX. However, if there is a technical failure or unforeseen circumstances, these timelines may not be met by CoinDCX. CoinDCX does not undertake any liability for the same. 

CoinDCX holds all rights to revoke the Reward or any rights therein in case of any fraud, breach of network security, misrepresentation, negligence, wash trades, bulk registered accounts, self-dealing, collusion or display of attributes of market manipulation, API bot trading or any activity in order to avail the Reward by any illegal or immoral means, breach of applicable law or terms herein or Terms of Use by any User. CoinDCX shall have the right to proceed against the User in a manner as CoinDCX may deem fit.

The User hereby agrees and acknowledges that CoinDCX does not undertake any guarantee or warranty on the quality of any third-party product or service being distributed as the Reward and shall not be liable for any defects or discrepancies. 

The Users who win the Reward shall comply with all applicable laws, including all the applicable taxation laws (including in India). The winners shall be liable to pay all applicable taxes, or any other costs or charges levied by any statutory or government authority in relation to any withdrawal or credit/transfer of any Rewards to the User under the Trading Competition. CoinDCX does not undertake any liability or responsibility in this regard.

The User, by participating in this Trading Competition, hereby agrees and grants their irrevocable consent to CoinDCX for sharing their in-app activity with each other including for any survey, statistics etc. Each User agrees that CoinDCX shall be permitted to publicly share and/or utilize the trading, registration, and any other data as regards trading activity on the User's account as CoinDCX deems fit.

The User shall indemnify and keep CoinDCX indemnified at all times for and against any loss, costs, damages, expenses, liabilities, claims arising out of any breach by the User of the terms contained herein or of any other applicable laws in India.

Under no circumstances whatsoever shall CoinDCX or any of its directors, officers, 

employees or agents be liable for any damages whatsoever to the User, including, without limitation, indirect, incidental, consequential or punitive damages arising out of or related to the use of the site or the services, including without limitation to the quality of the usefulness of information provided through or as 

part of the site or any decision made on the basis of the information, whether the damages were predictable or not and whether or not the company has been acquainted with the possibility of such damages. In no event shall CoinDCX's cumulative liability to the User exceed the amount of money the User has transferred or deposited in its wallet in connection with the transaction giving rise to such liability.
Join our Community